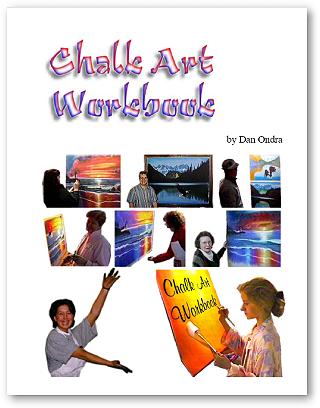 Chalk Art Workbook – Volume 1
As the cover demonstrates, students who follow this workbook, produce extraordinary results, often in their first attempts! Color pictures show each stage of the drawing for seven beautiful chalk drawings. The workbook's step-by-step instructions, not only simplify drawing, but speed up the process reducing drawing time. Discover techniques used by artists to overcome obstacles. This book can help master the basics and avoid common mistakes with troubleshooting tips for each drawing.
Nook, Kindle Fire, iPad, Smart Phone ready PDF
Download this e-workbook now for only $5
---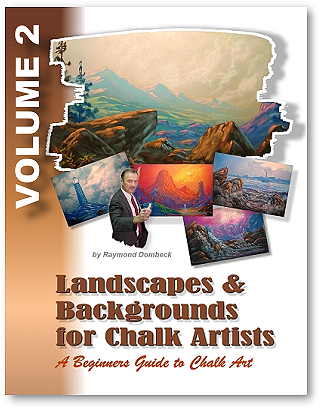 Landscapes & Backgrounds for Chalk Artists
By Raymond Dombeck
This Beginner's Guide to Chalk Art, demonstrates each stage of the drawing process for four original chalk drawings- The workbook's step-by-step instructions reveal techniques to overcome obstacles and prevent common mistakes. There is also trouble shooting help for each drawing.
Nook, Kindle Fire, iPad, Smart Phone ready PDF
Download this e-workbook now for only $5
A printed version of this workbook can be mailed to you for $29.95 – Click Here
---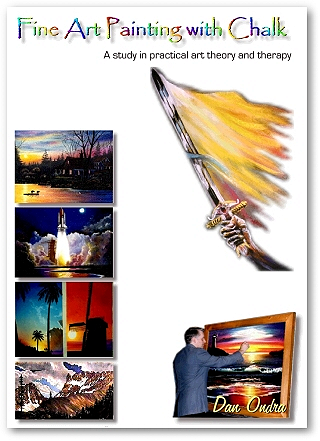 Fine Art Painting with Chalk

Fine Art Painting With Chalk is the result of a twenty-year search for a confidence building teaching method that overcomes the fears and obstacles to effective art. Discoveries about the way we think, see, learn and draw can make developing fine-art skills faster and easier than ever before. You will be amazed at how quickly you develop your own unique style as you discover the secrets that empower successful artists. Each section is geared for both the beginner and the professional. Simple techniques cut drawing time and make the chalk do the work. One stroke can be worth a thousand.
Nook, Kindle Fire, iPad, Smart Phone ready PDF
Download e-book now $5
---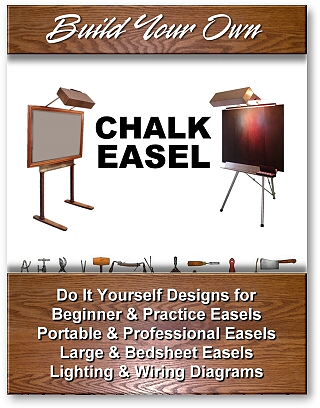 Build Your Own Chalk Easel
This book is a compilation of the 30 best  chalk art easel ideas for both the beginner and professional artist. It is a valuable resource for those who build equipment for live chalk art presentations. It includes ideas for practice as well as performance easels. It has ideas for the best portable, lightweight easels as well as bed sheet large and formats. Several professional lighting systems are explored. A basic wiring diagram is included.
Nook, Kindle Fire, iPad, Smart Phone ready PDF
Download the Easel e-book now for only $5
---
Chalk Art Video Training
The most valuable activity of a chalk art training workshop, is the time spent, one-on-one, with the teacher, walking the student through each stage of a drawing.
These videos are like side-by-side training, designed to pace each artist's ability. They demonstrate effective methods to create a variety of subject matter for live presentations and explore the thought process behind each stroke in a composition. These presentations illustrate in detail the step-by-step instructions; the colors that are used, blending techniques, reflections, shadows, and much more.
They are in formats that are friendly to all devices, including smart phones, pads, laptops, computers, large screen TV's and video projectors. Click the Download button for video of the subject you would like to study. When checkout is complete, you will be immediately forwarded to the training video for instant review. The Training Videos may also be download to store on your device to review at your leisure.
---

Lighthouse Instruction Video
This 30 minute video clearly explains how to draw the colorful lighthouse seascape seen in this time lapse video. Students who follow this video, produce extraordinary results, even in their first attempts! The step-by-step instructions, reveal techniques for realism used by many artists.
Nook, Kindle Fire, iPad, Smart Phone ready PDF
Download this video now for only $2.99
---

Prairie Waterfall Instruction Video
This 30 minute video demonstrates how to draw this beautiful prairie waterfall landscape. Although this drawing is for more experienced artists, even beginners can benefit from these professional skills. The step-by-step instructions, explore advanced techniques for seasoned artists.
You are a great teacher and I love your interaction with Ray as he teaches us his chalk drawings. You both are amazing artists and to get the videos for only 2.99 is great. – Mike S.
Nook, Kindle Fire, iPad, Smart Phone ready PDF
Download this video now for only $2.99
---

Blue Seascape Instruction Video
This 40 minute video shows how to draw this blue seascape. Although this drawing is for more experienced artists, even beginners can benefit from these professional skills. The step-by-step instructions, explore advanced techniques for seasoned artists.
Nook, Kindle Fire, iPad, Smart Phone ready PDF
Download this video now for only $2.99
---

Blue Lighthouse Instruction Video by Ray Dombeck
This 24 minute video explains how to draw a limited palette lighthouse seascape using only 6 colors, seen in this time lapse video. This video teaches Ray's method step-by-step for a foggy day effect.
Nook, Kindle Fire, iPad, Smart Phone ready PDF
Download this video now for only $2.99
---

Large Waterfalls – Ray Dombeck Instruction Video
This 30 minute video clearly explains how to draw large waterfalls in a landscape foreground, seen in this time lapse video. This beginner drawing study teaches step-by-step instructions for rendering three dimensional objects using basic techniques for fast results.
Nook, Kindle Fire, iPad, Smart Phone ready PDF
Download this video now for only $2.99
---

Drawing Rocks – Ray Dombeck Instruction Video
This 30 minute video clearly explains how to draw large, interesting rocks in a landscape foreground, seen in this time lapse video. Even advanced students admit difficulties rendering realistic variation and foreground arrangement of large stones.Beginners overcome this difficulty by this drawing study that breaks down, step-by-step instructions the complex process of rendering three dimensional objects. These proven basic techniques work out problems to enable fast results.
Nook, Kindle Fire, iPad, Smart Phone ready PDF
Download this video now for only $2.99